I just love Sniders.
Here is a review I did of the best Snider bullet out there bar none.
It has gone on to develop even far better groups that the first ones shot here.
Red River Ricks .590" Collar Button
This thread follows on from the one in the Group buy Forum
here:
http://castboolits.gunloads.com/showthread.php?t=25795
I can confirm that the mould is a beauty its right up there with the best bespoke moulds.
Here it is fitted to a pair of Ricks quality handles.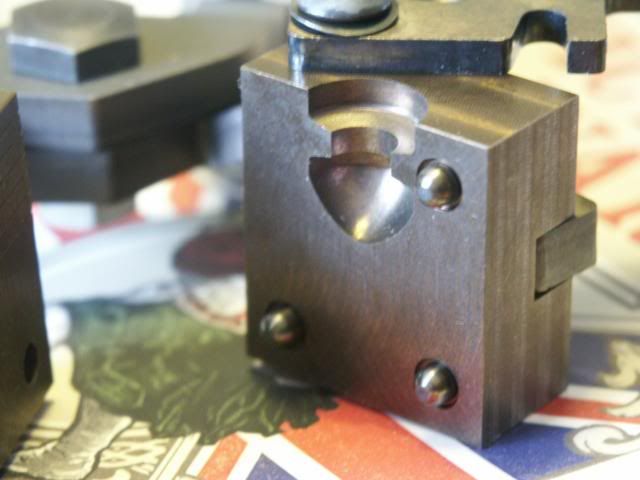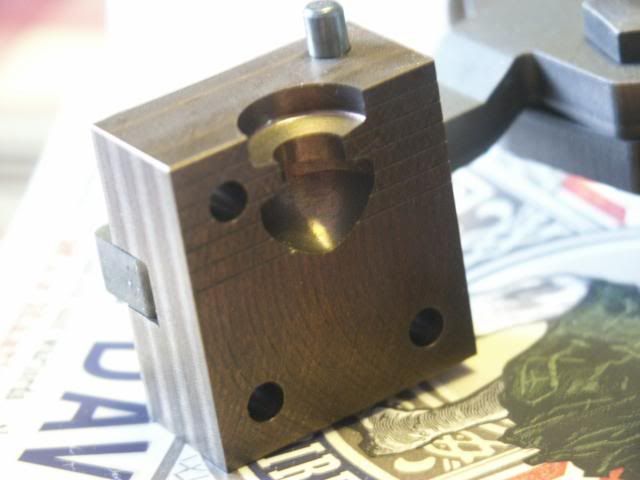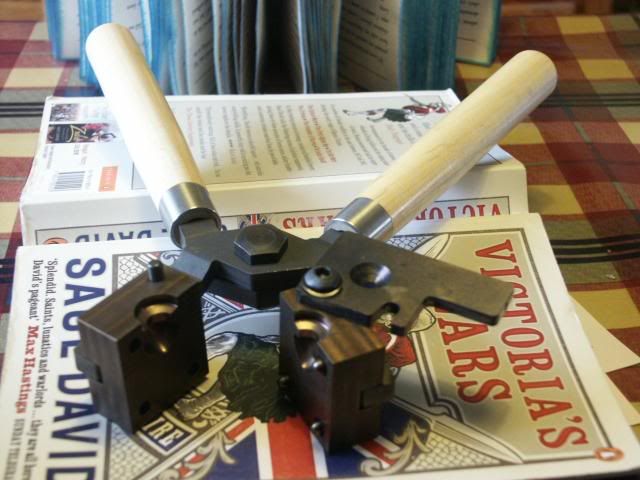 The mould halves fit together seamlessly with just the right amount of slight resistance as they finally close.
The sprue plate was little tight for my taste but is easily adjusted, as can be seen from the photographs it is plenty thick to allow alloy pull into the mould on cooling.
The mould was cleaned with isopropyl alcohol and it was ready to cast.
So on to the pot and lets see how she casts
:-D
Alloy for this Boolit is as close as I can get to pure lead, this is roof flashing and has a BH of just under 6.
Here's the pot, the mould and ladle heating up.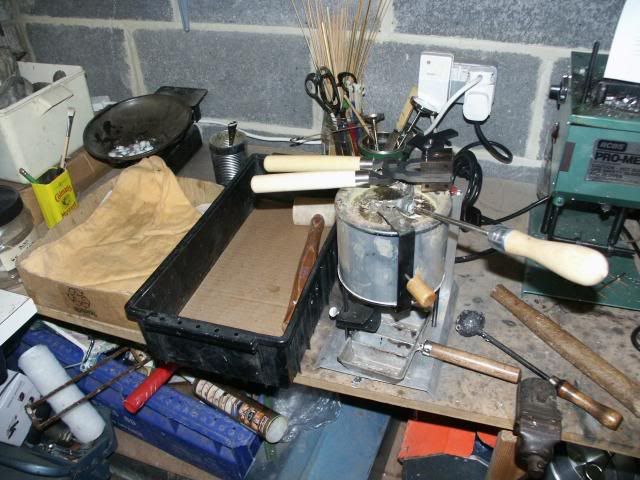 I ran the alloy temperature up to 850 for starters and began casting, I was using a rowel ladle and it took around a dozen and a half casts to get all the wrinkles out and the mould up to temp.
Boolits were looking good but base fill out wasn't perfect, I upped the temp to 900 and that sorted that out, next time I'll slacken of the sprue plate a tad. I then got into rhythm with boolits dropping consistently.
The handles needed a tap to drop the boolits but that is due to the depth of the lube groove rather than and finish problems, a light tap and out they came.
I tried using the Lyman dipper as well but it didn't give as good results as the Rowel, mainly incomplete base edge fill and as I've said slackening the sprue plate will help here methinks.
About half way through the session I applied some Bull Plate Sprue lube to the mould. Now I rate this product very highly but when applied to Ricks mould I noticed no difference in operation other than the no smear if you open the sprue plate early. The stuff is doing its job its just that the fit is so good that you don't notice any improvement as there isn't room for any. This has only happened with my Borton Darr moulds, pretty impressive.
After about three quarters of an hour I felt the need for a cup of tea so brought the session to and end and I'd around 80 boolits ready for inspection.
The boolits weighed in at half a grain either way of 351 grains.
I had 78 boolits in this weight range and 18 rejects, these were the ones that were used for getting the mould up to temperature and the incomplete base fill with the Lyman ladle.
I then checked the boolits for roundness using Gussy's Cabine Tree hardness tester.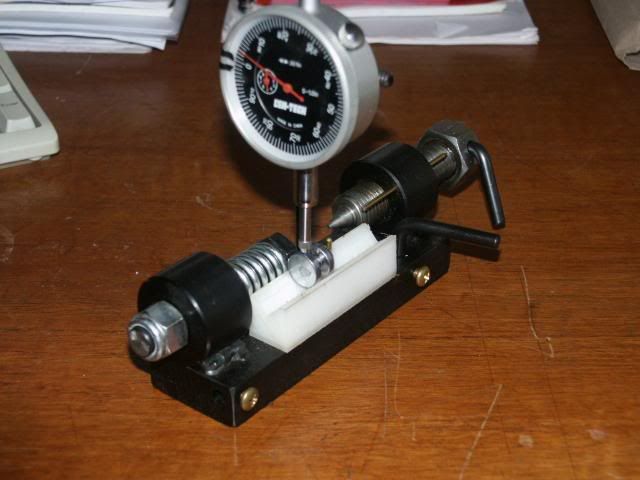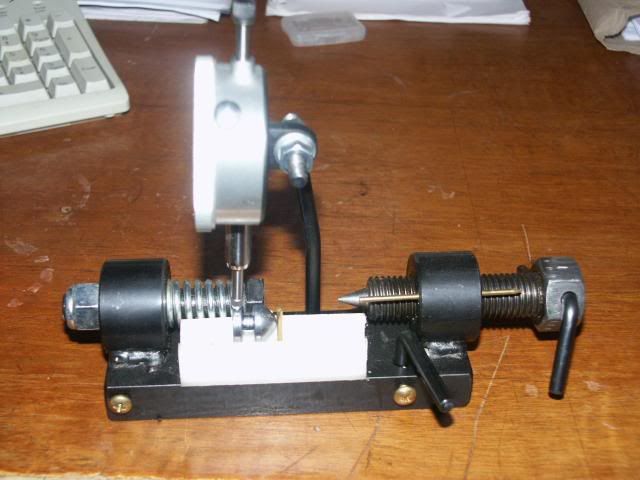 Again very impressive, there was the odd flicker on the dial as I rotated the boolit but nothing over 1 thou and that could have been as much my ham fistedness rotating the boolit as the boolit's condition.
From a casting point of view we have a real winner here, have I mentioned that this is class act of a mould.
So now to lubing.
The boolits miked out at a very consistent .5915" with my alloy on both bands (?).
A good fit for the Snider methinks
The boolits were sized, well hardly, on my Vickers lube sizer. This beast was made for .577 Boolits so Buckshot was able to craft a .590" lube die for me.
For lube I use my own beeswax/lanolin/olive oil mix that is pretty soft and keeps any BP fouling down.
These boolits take a lot of lube each one needing a three quarters rotation of the piston to fill the groove.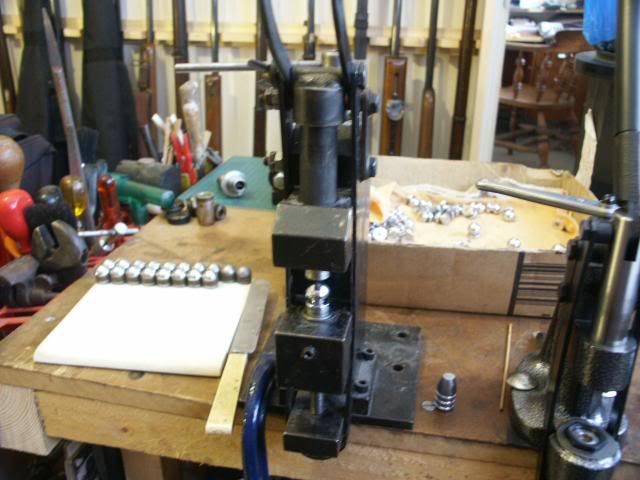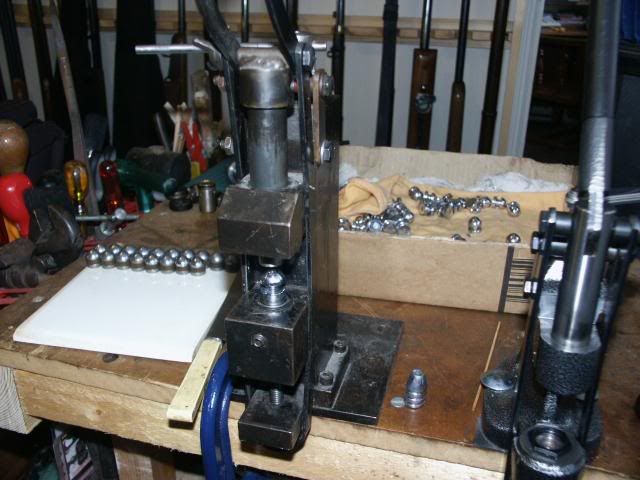 Almost filled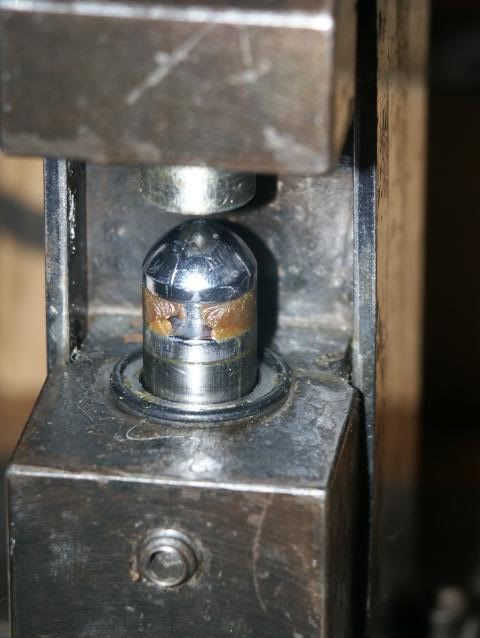 Another tweak and its finished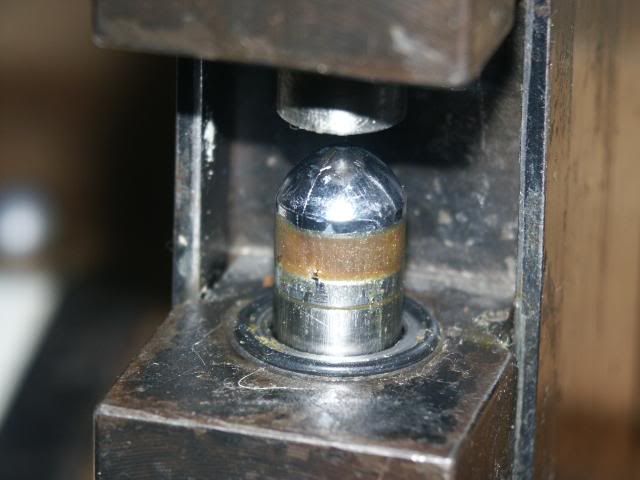 Don't they look totally different when lubed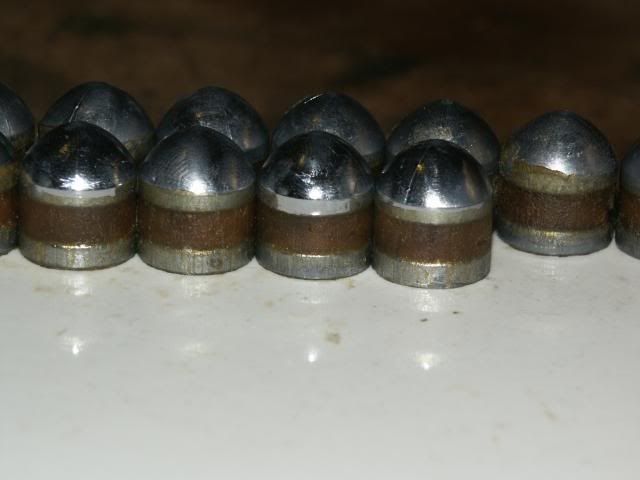 All thats left to do now is load the rounds.
Loading .577 Snider
I'm using my standard .577" Snider load of 75 gns of Swiss No5 powder with slight compression of a sixteenth of an inch after filling the case through a 36" drop tube, in a converted CBC 24 bore shotgun case fired with a Federal pistol primer.
Over the powder is 3 gns of washed and carded wool.
Being a .590" boolit I was worried about getting the case expanded enough for seating but one of my older NDFS dies sets had an "M" die like step in it and this give me enough flare to start the boolit.
Here's the cases having the wool added.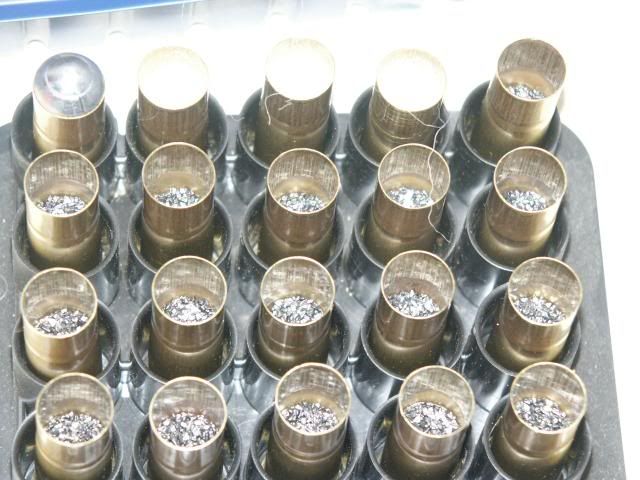 Three grains, no more no less.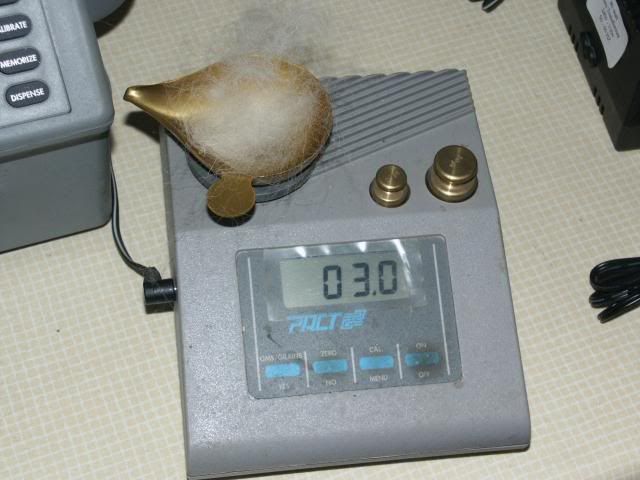 Now time to seat the boolit.
The finished Item, ready to go.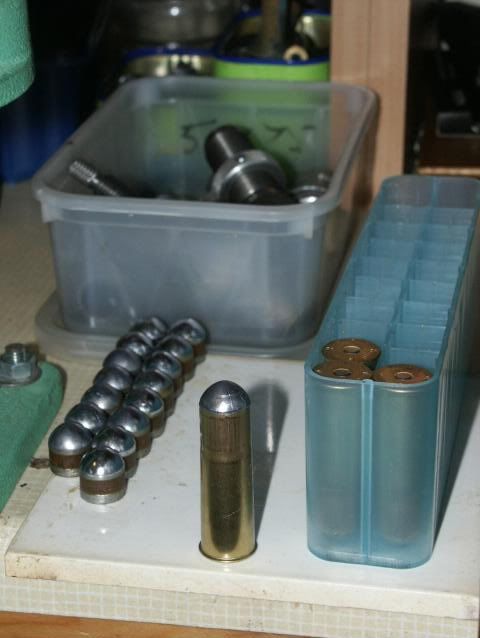 So how do they shoot?
Haven't a clue but I'm at the range tomorrow and weather permitting we'll find out.
I've put up some reference rounds with the RCBS Minnie for comparison and I'll be using three Sniders for the test one with the three groove 1 in 72" twist a three band Mk1 * , a two band 5 groove 1 in 48" Mk111 and an Artillery Carbine with the same barrel as the two band.
So range report to follow. :-D
How does it shoot?
About as good as it casts. :-D
The following are 50 yrd 5 rnd groups off a rest.
These are with no load development just the standard .577 load.
2 1/2" MK111.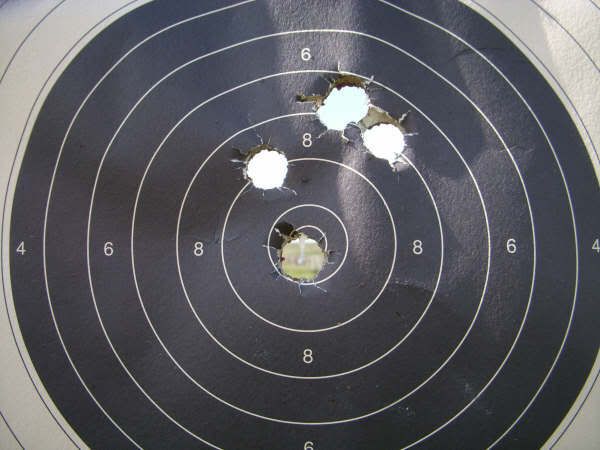 4" MK1*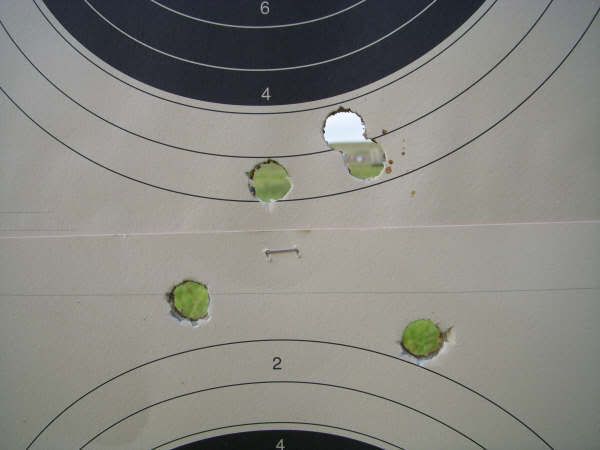 4 1/2" Artillery Carbine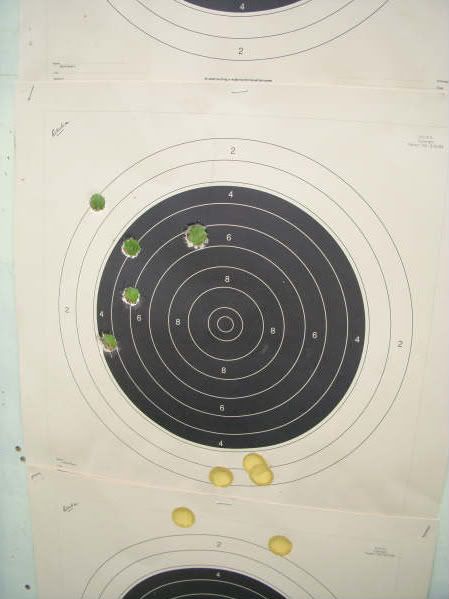 In all cases these groups were fired from a clean barrel, in all three the lowest shot in the group was the first.
In the Mk1* group the second lowest shot was called by the shooter.
Bearing in mind the nature of the sights on these rifles and variable technique of the shooters these are good groups.
It was a pleasure to shoot with the lighter boolit giving noticably less recoil than the standard minnie.
For me this boolit is a winner and with work and care repeatable accuracy will come from these rifles, especially the two band, using Red River Rick's .590" Paradox Mould.
Rick won't be getting this one back. :-D
The rifles.
Many thanks to Rick for sticking his neck out on this and the result is a testament to the man's technical skill and understanding of the subject.
The rifles: